Mastering Multiple Choice for Federal Civil Proced...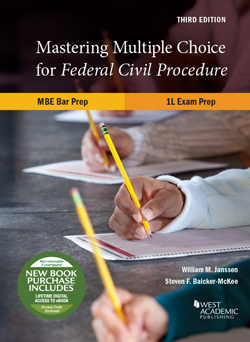 Mastering Multiple Choice for Federal Civil Procedure MBE Bar Prep and 1L Exam Prep
Authors: Janssen, William M. / Baicker-McKee, Steven
Edition: 3rd
Copyright Date: 2018
Publication Date:

September 28th, 2018

ISBN:

9781642424201

Subject: Civil Procedure
Series: Career Guides
Description: Need a little practice with multiple choice questions in federal civil procedure? Your solution has arrived.

You MUST buy this book if:

A. You are studying for your Bar Exam's MBE multiple choice test, and are more than just a little freaked out by how broadly Civil Procedure can be tested;
B. You are in law school, enrolled in a Civil Procedure course, and you are exasperated trying to master the countless nuances of Civil Procedure;
C. You want a resource that helps coach you in improving multiple choice exam performance, with strategies, realistic questions, answers, and detailed explanations;
D. All of the above.

This third edition (expanded by 28% with new questions, new answers, and new explanations) encompasses material reflecting the Civil Procedure Rule amendments of December 2015, December 2016, and December 2018, along with applicable new case law. This multiple choice practice book is designed for: (a) bar exam takers, who are preparing to take the MBE multiple choice bar exam (Civil Procedure was added in 2015 as a multiple choice testing topic), and (b) 1L law students, who are preparing to take their course examinations. This practice book offers practical, easy-to-follow advice on multiple choice exam-taking strategies, clear suggestions on effective multiple choice practicing techniques, and a robust set of Civil Procedure multiple choice practice questions with answers and explanations (designed to simulate MBE-style questions). Tables help users decode the tested-topic for each practice question.