Mastering Multiple Choice for Federal Civil Proced...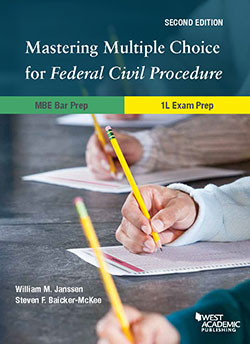 Mastering Multiple Choice for Federal Civil Procedure MBE Bar Prep and 1L Exam Prep
Authors: Janssen, William M. / Baicker-McKee, Steven
Edition: 2nd
Copyright Date: 2016
Publication Date:

May 13th, 2016

ISBN:

9781634604659

Subject: Civil Procedure
Series: Career Guides
Description: Looking for a reliable multiple-choice practice resource for federal civil procedure?

Well, you MUST buy this book if:



A. You are studying for the Multistate Bar Examination, and are a little freaked out by the arrival of Civil Procedure to the question categories in the exam;


B. You are now enrolled in a Civil Procedure course and you are still trying to figure out precisely what was going on in Pennoyer v. Neff;


C. You want a resource that not only allows you to test your understanding of Civil Procedure, but enhances it by providing detailed explanations;


D. All of the above.



This second edition (expanded by 25% with new questions, and now also encompassing the December 2015 Rules amendments) is a multiple-choice exam practice book designed for (a) bar exam takers, who are preparing to take the MBE multiple-choice bar exam (Civil Procedure was recently added as a testing topic in the MBE multiple-choice bar exam), and (b) 1L law students, who are preparing to take their course examinations. The book offers practical, easy-to-follow advice on multiple-choice exam-taking strategies, clear suggestions on effective multiple-choice practicing techniques, and a robust set of Civil Procedure multiple-choice practice questions with answers and explanations (designed to simulate MBE-style questions). Tables help users decode the tested-topic for each practice question.