Principles of Employment Discrimination Law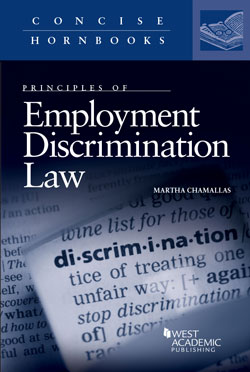 Principles of Employment Discrimination Law
Author: Chamallas, Martha
Edition: 1st
Copyright Date: 2019
Publication Date:

November 28th, 2018

ISBN:

9781634593021

Subject: Employment Discrimination
Series: Concise Hornbook Series
Type: Hornbook Treatises
Description: This Concise Hornbook explains the intricate doctrines and frameworks of proof that courts have developed in interpreting federal employment discrimination statutes. It provides in-depth treatment of Title VII of the Civil Rights Act of 1964, the Age Discrimination in Employment Act (ADEA) and the Americans with Disabilities Act (ADA). Designed for use by law students, scholars, and practitioners, the book identifies the critical elements of disparate treatment and disparate impact theory and proof requirements for claims of harassment and retaliation. Separate sections address distinctive issues relating to religious discrimination, pregnancy and caregiver discrimination, pay equity suits and discrimination based on sexual orientation and gender identity. The book covers U.S. Supreme Court precedents as well as developments and trends in the lower courts.