A Short & Happy Guide to Employment Discrimination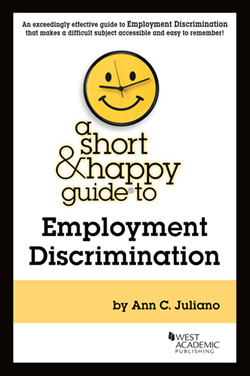 A Short & Happy Guide to Employment Discrimination
Author: Juliano, Ann C.
Edition: 1st
Copyright Date: 2021
Publication Date:

March 29th, 2021

ISBN:

9781684677092

Subject: Employment Discrimination
Series: Short & Happy Guides
Type: Overviews
Description: If the phrase "in other words" is your favorite part of class, then this is the book for you. This book takes the complicated subject of Employment Discrimination and breaks it down to easily understood pieces. The Big Three statutes! The theories of liability! Defenses! Remedies! Procedures! It's all here with a summary at the end of each section and a comparison of the different theories of liability. You'll be a happier student by the end of the book.