Swimming Lessons for Baby Sharks: The Essential Gu...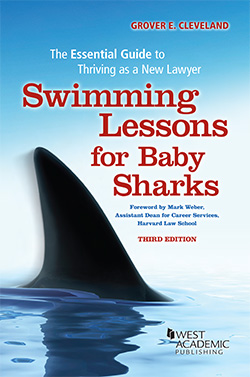 Swimming Lessons for Baby Sharks: The Essential Guide to Thriving as a New Lawyer
Author: Cleveland, Grover E.
Edition: 3rd
Copyright Date: 2022
Publication Date:

June 2nd, 2022

ISBN:

9781647085490

Subject: Career Success
Series: Career Guides
Description: The go-to book for new lawyer success at leading firms and schools, Swimming Lessons for Baby Sharks contains critical advice new graduates need to thrive. Completely revised and updated, the Third Edition includes vital new information on navigating a hybrid work environment. The new edition also includes expanded guidance on networking, client service, business development, time and project management, and many other topics. The goal is simple: to help new lawyers start strong, because experience is the most expensive way to learn. With an easily readable style, Swimming Lessons for Baby Sharks helps new lawyers finesse unwritten rules and stay afloat in a challenging profession. The book contains hundreds of tips with inside information from successful lawyers nationwide. Humorous, real-life examples illustrate the lessons along with checklists to provide comprehensive advice quickly. The book has been called a "game changer" and partners at firms nationwide recommend it for associates.