Excellence in the Workplace, Legal and Life Skills...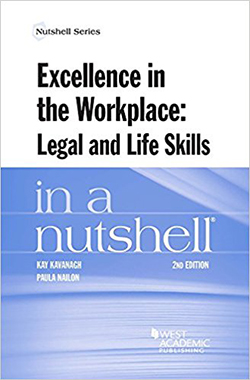 Excellence in the Workplace, Legal and Life Skills in a Nutshell
Authors: Kavanagh, Kay / Nailon, Paula
Edition: 2nd
Copyright Date: 2018
Publication Date:

January 12th, 2018

ISBN:

9781634607766

Subject: Career Success
Series: Nutshells
Type: Overviews
Description: A people-skills book for new lawyers, law students, paralegals, and pre-law students. Identifies skills lawyers need; addresses getting practical lawyering skills and help you need—on the job and in law school. Chapters on emotional intelligence, diversity, meetings, time management, managing writing and research assignments, meeting with clients, working with your supervisor, supervising others. How to get feedback, cope with stress and conflict, seek balance, master public speaking and oral communication. Addresses the first day, shyness, meals, dress, cultural differences, networking, judgment, values, ethics, e-mail, and e-professionalism, building a career plan, career office resources, deciding if a job is right for you, negotiating salary, law firm economics, managing money. Advice from employers, insights from students. Excellent advice for new professionals in any field.