A Short & Happy Guide to Civil Procedure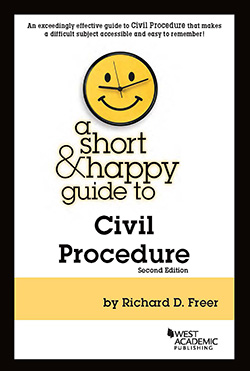 A Short & Happy Guide to Civil Procedure
Author: Freer, Richard D.
Edition: 2nd
Copyright Date: 2019
Publication Date:

August 19th, 2019

ISBN:

9781684672288

Subject: Civil Procedure
Series: Short & Happy Guides
Type: Overviews
Description: Of the first-year subjects, Civil Procedure is the most foreign to students' experience. This book unlocks Civil Procedure by explaining doctrine and rules and placing them in context – showing what each doctrine is doing and how each doctrine relates to the others. It includes a chapter on how law school differs from college and what that means for class- and exam-preparation. It provides concrete analytical frameworks for resolving exam questions. And throughout, scores of examples allow you to apply the law to fact patterns.