A Short & Happy Guide to Civil Procedure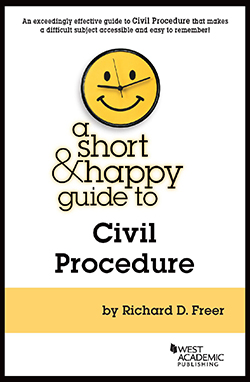 A Short & Happy Guide to Civil Procedure
Author: Freer, Richard D.
Edition: 1st
Copyright Date: 2014
Publication Date:

June 27th, 2014

ISBN:

9780314287274

Subject: Civil Procedure
Series: Short & Happy Guides
Type: Overviews
Description: Of all the first-year subjects, Civil Procedure is the most foreign to students' experience. This book will demystify Civil Procedure. It will explain the doctrine and make it easy to remember. It includes numerous tips for civil procedure exams (as well as regarding law school exams generally). Before you know it, you'll be part of the hip crowd – the Civ Pro crowd.