100 Days to Your Next Job for Law Students & New J...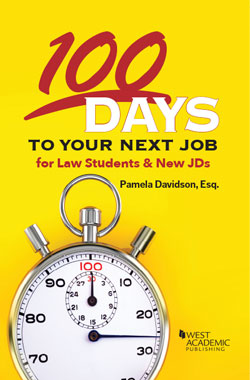 100 Days to Your Next Job for Law Students & New JDs
Author: Davidson, Pamela
Edition: 1st
Copyright Date: 2019
Publication Date:

July 15th, 2019

ISBN:

9781640208513

Subject: Career Success
Series: Career Guides
Description: 100 Days to Your Next Job for Law Students and New JDs lays down a proven job search strategy to transform job seekers into new employees within just 100 days. The book's progressive week-by-week format provides a unique and flexible plan that eliminates the uncertainty and anxiety from one of life's biggest stressors – landing that next job. This accessible format is perfect for time-pressed students and eager new graduates, and is a must-read for anyone heading into the legal job market.

100 Days does for job searching what bar prep courses do for the bar exam – transforming a challenging and overwhelming event into an achievable success story! 100 Days is a must-have for all law students and graduates to guide them to their first legal job and all future career transitions.

The author, Pamela Davidson, Esq., condenses her ten years of legal placement and recruiting experience into an easy-to-read guide that breaks down the barriers of job searching logistics: where to search for jobs, how to land a job, how to get a better paying job or a more meaningful job, and how to negotiate salaries. With 100 Days, you have your own personal career coach who will help you achieve success in your legal career.