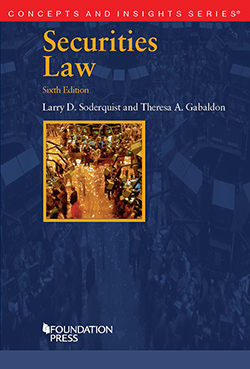 Securities Law
Authors: Soderquist, Larry D. / Gabaldon, Theresa A.
Edition: 6th
Copyright Date: 2019
Publication Date:

November 5th, 2018

ISBN:

9781642425765

Subject: Securities Regulation
Series: Concepts and Insights
Type: Hornbook Treatises
Description: This concise text provides a basic introduction to securities law. One object of the book is to help struggling students get on track; another is to assist in review and exam preparation. The authors define a security, explain how securities are registered under the Securities Act and describe the applicable exemptions. Many other subjects are addressed, including Exchange Act reporting, proxy solicitations and tender offers, insider trading, and international aspects of securities law. The book is completely up-to-date, including coverage of cryptocurrency and the progressive liberalization of the rules and regulations governing registration and reporting.