Principles of Securities Regulation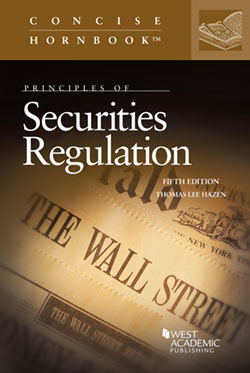 Principles of Securities Regulation
Author: Hazen, Thomas Lee
Edition: 5th
Copyright Date: 2021
Publication Date:

December 14th, 2020

ISBN:

9781642424102

Subject: Securities Regulation
Series: Concise Hornbook Series
Type: Hornbook Treatises
Description: This book includes the most recent developments in securities regulation in an accessible format. Authoritative coverage includes the definition of "security," registration and disclosure obligations under the Securities Act of 1933, exemptions from registration, reporting obligations under the Securities Exchange Act of 1934, the proxy rules, tender offer regulation, and civil liabilities. The book treats broker-dealer regulation, market regulation, and the administrative role of the SEC, as well as proxy rules, insider trading, and provides overviews of the Investment Company Act and the Investment Advisers Act. This 5th edition updates the 4th edition to include recent SEC rulemaking including important amendments to exemptions from registration, new broker-dealer obligations, as well as recent Supreme Court and many other case law developments.