Law School Legends Audio on Future Interests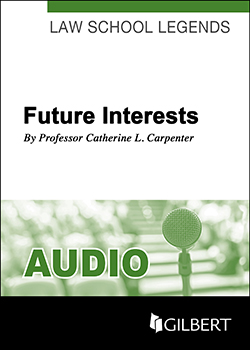 Law School Legends Audio on Future Interests
Author: Carpenter, Catherine L.
Edition: 3rd
Copyright Date: 2008
Publication Date:

June 22nd, 2008

Subject: Trusts and Estates
Series: Law School Legends Audio Series
Type: Audio Lectures
Description: Carpenter's Law School Legends Audio on Future Interests features Professor Catherine L. Carpenter's lecture on future interests. This audio lecture covers, in clear, easy-to-understand language: Present possessory estates, such as fee simple, fee tail, life estates, fee simple determinable, fee simple subject to condition subsequent, and fee simple subject to executory limitation; Future interests; Reversion; Possibility of reverter; Power of termination; Right of reentry; Vested remainder absolute; Vested remainder subject to partial divestment; Vested remainder subject to total divestment; Contingent remainder; Executory interests; Rules affecting the transfer of property; Doctrine of merger; Doctrine of destructibility of contingent remainders; Shelly's case; Doctrine of worthier title; Rule against perpetuities. Hypotheticals and exam tips are included.