Wills and Trusts in a Nutshell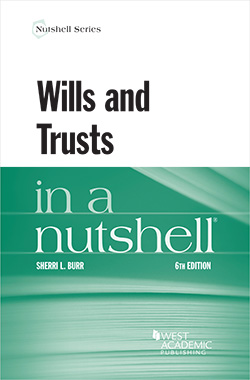 Wills and Trusts in a Nutshell
Author: Burr, Sherri L.
Edition: 6th
Copyright Date: 2023
Publication Date:

October 20th, 2022

ISBN:

9781685611897

Subject: Trusts and Estates
Series: Nutshells
Type: Overviews
Description: The sixth edition of this book updates laws affecting intestate succession, wills, guardianships, and trusts. It introduces wills and trust terminology to the lay audience and summarizes the law included in the Uniform Probate Code, Uniform Trust Code, Uniform Principal and Income Act, Uniform Guardianship and Protective Proceedings Act, Uniform Prudent Investor Act, and the Restatement of Trusts. To illustrate legal issues this book utilizes problems arising from celebrity peccadilloes and well-known deaths, such as those of Abraham Lincoln, Elvis Presley, Michael Jackson, Prince, and the mother/daughter team of Debbie Reynolds and Carrie Fisher. The book can be adopted to supplement a traditional wills and trusts class or as the sole text for a seminar. With clarified language, the book is also accessible to the general public interested in learning more about this complex topic.