Law School Legends Audio on Civil Procedure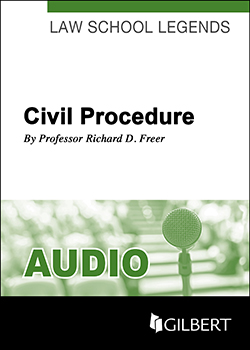 Law School Legends Audio on Civil Procedure
Author: Freer, Richard D.
Edition: 4th
Copyright Date: 2016
Publication Date:

March 18th, 2016

Subject: Civil Procedure
Series: Law School Legends Audio Series
Type: Audio Lectures
Description: This audio lecture covers subject matter jurisdiction, personal jurisdiction, long arm statutes, and constitutional limitations. It also discusses in rem and quasi in rem jurisdiction, service of process, venue, transfer, forum non conviens, removal, waiver, governing law, pleadings, and joinder of claims. Also included are permissive and compulsory joinder of parties, counterclaims and cross-claims, ancillary jurisdiction, impleader, class actions, discovery, pretrial adjudication, summary judgment trial, post trial motions, appeals, res judicata, and collateral estoppel. The lecture references all the newly restyled Federal Rules of Civil Procedure.