Legal Drafting in a Nutshell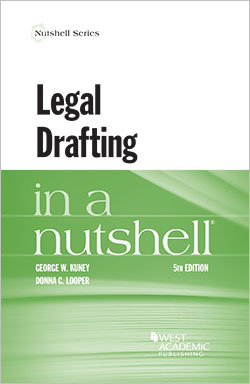 Legal Drafting in a Nutshell
Authors: Kuney, George W. / Looper, Donna C.
Edition: 5th
Copyright Date: 2021
Publication Date:

December 21st, 2020

ISBN:

9781684675289

Subject: Legal Writing
Series: Nutshells
Type: Overviews
Description: Legal Drafting in a Nutshell, 5th Edition, provides guidance on producing transactional documents, contracts, instruments, legislation, and regulations that solve existing problems and prevent future problems. The book provides both a large scale, macro overview of the drafting process as well as small scale, micro focused discussion of the mechanics of legal documents at the sentence, word, and punctuation level. The book incorporates current and developing perspectives regarding subjects like plain English, legal typography, and document preparation in the 21st century. This is especially the case in sections of the text dealing with contracts and instruments, although it is true throughout the text. Legal drafting is as much a thought process as a writing process; clear thinking leads to clear drafting. This book is a guide for clear, structured thinking about drafting in order to provide readers with a structured process to follow when assembling useful legal documents.