Principles of Payment Systems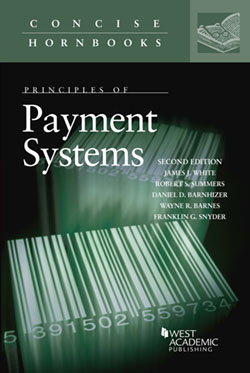 Principles of Payment Systems
Authors: White, James J. / Summers, Robert S. / Barnhizer, Daniel D. / Barnes, Wayne R. / Snyder, Franklin G.
Edition: 2nd
Copyright Date: 2019
Publication Date:

December 13th, 2018

ISBN:

9781683285281

Subject: Commercial Law
Series: Concise Hornbook Series
Type: Hornbook Treatises
Description: Provides law students with an in-depth introduction to the UCC without burdening them with unnecessary detail. Citations have been used to enable the reader to understand the kinds of cases that might be presented under particular provisions of the Code. The materials cover payment systems under UCC Articles 3, 4, 4A, and 5, as well as related statutes, regulations, and operating rules governing negotiable instruments, the banking system, the Federal Reserve, clearinghouses, electronic payments, and letters of credit.