A Short & Happy Guide to the Law of Sales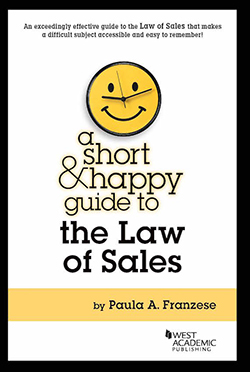 A Short & Happy Guide to the Law of Sales
Author: Franzese, Paula Ann
Edition: 1st
Copyright Date: 2017
Publication Date:

May 5th, 2017

ISBN:

9780314279880

Subject: Commercial Law
Series: Short & Happy Guides
Type: Overviews
Description: Learn the UCC from a master teacher. Professor Paula A. Franzese, featured in What the Best Law Teachers Do (Harvard University Press), is the ten-time recipient of the Professor of the Year Award and the creator and editor of the Short and Happy Guide series. This efficient and concise volume sets forth clear rules and techniques for mastering the elements of contract formation, content, performance, breach and remedies. Complex topics such as the battle of the forms, the statute of frauds, the parol evidence rule, excuse doctrine, warranties, buyer's remedies and seller's remedies are presented in straightforward, easy to understand terms. The examples are fun and engaging, and the checklists and summaries contained at the beginning and end of each chapter are priceless study tools. Read this book and become a Code connoisseur and legal ninja!