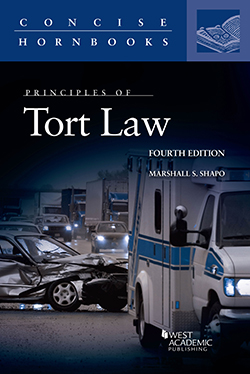 Principles of Tort Law
Author: Shapo, Marshall S.
Edition: 4th
Copyright Date: 2016
Publication Date:

March 1st, 2016

ISBN:

9781634604420

Subject: Torts
Series: Concise Hornbook Series
Type: Hornbook Treatises
Description: This edition provides a wealth of new material drawn from summaries of and quotations from scholarly books and articles and case law. The subjects of this new material are rich in their range of topics. They include:

The "precautionary principle"
Summaries on tort rationales that range from references to Kantian philosophy and a riff on Harry Potter
The relation of tort law to public law
Varied materials on consent
The duty question, including a summary of a recent Supreme Court case and scholarship in the area
Material on privacy ranging from Prosser's classification system to LGBT plaintiffs
The roles of race and gender in calculations of damages
A criticism of "tort reform" efforts
Case law on the "baseball rule" with respect to spectator injuries.
Matters of topical 'headline" interest include smartphones as distractions and certain aspects of publication of photos on the Internet.
Celebrities mentioned in items under different categories are Joan Rivers, Jesse Ventura, and Jim Boeheim.