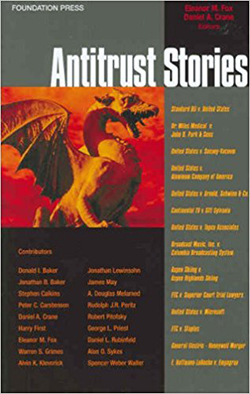 Antitrust Stories
Authors: Fox, Eleanor M. / Crane, Daniel A.
Edition: 1st
Copyright Date: 2007
Publication Date:

August 24th, 2007

ISBN:

9781599410920

Subject: Antitrust Law
Series: Law Stories
Type: Overviews
Description: Drawing on history, economics, politics, and law, Fox and Crane's Antitrust Stories provide a glimpse behind the texts of well-known legal opinions into the larger-than-life personalities and struggles of their antagonists and protagonists. Cases have been selected to provide a historical sampling of different eras of antitrust enforcement. They range from Standard Oil at the founding of U.S. antitrust to Microsoft in the new economy. This title is an invaluable supplement to any antitrust casebook, and the inclusion of cases with international aspects, including GE/Honeywell, Empagran, and Alcoa, makes it useful for courses on comparative or international competition policy. It is also useful as an assigned text for an undergraduate course in economic history or business regulation.