A Short & Happy Guide to Copyright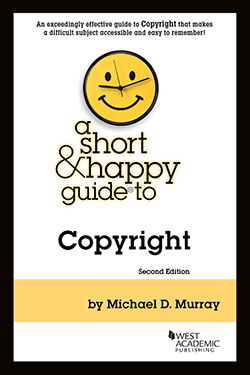 A Short & Happy Guide to Copyright
Author: Murray, Michael D.
Edition: 2nd
Copyright Date: 2022
Publication Date:

May 2nd, 2022

ISBN:

9781636593401

Subject: Intellectual Property
Series: Short & Happy Guides
Type: Overviews
Description: The Short and Happy Guide to Copyright is a succinct, enjoyable, and time-friendly text that is designed for you:


To get up to speed on the biggest issues of copyright law, and the black letter law addressing those issues;
To educate yourself as to your future clients' rights, potential liabilities, and options and opportunities regarding legal problems in copyright. Whether you plan to specialize in copyright or intellectual property, or simply want to be available to your firm or law office as an attorney who can take on a novel problem in an exciting and potentially high-profile and high-dollar-value area of your firm's or office's practice, this book will be useful to you;
To provide a vocabulary of legal terms to use when consulting with lawyers, clients, accountants, financial planners, and insurers regarding copyright problems in the creative, entertainment, and scientific fields;
To identify existing or potential legal problems in your clients' and your organization's practices. This guide will discuss a variety of areas in which exposure to legal liability or sanctions may present itself as a current or future problem based on your clients' practices and procedures.

Don't let the small size fool you! This guide is full of useful information about copyright, but it also is designed to be fun.