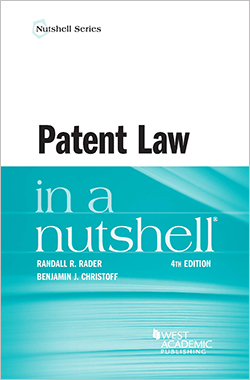 Patent Law in a Nutshell
Authors: Rader, Randall R. / Christoff, Benjamin J.
Edition: 4th
Copyright Date: 2023
Publication Date:

June 30th, 2023

ISBN:

9781647088408

Subject: Intellectual Property
Series: Nutshells
Type: Overviews
Description: This Nutshell provides a succinct description of the fundamentals of U.S. patent law. Ranging from the acquisition of patent rights to their enforcement, it contains an overview of relevant statutes, rules, and cases that collectively define this area of intellectual property law. Topics include claim construction, obviousness, anticipation, written description and enablement, infringement, remedies, and other notable doctrines. Patent law has evolved quickly in the past few years. This Nutshell captures those changes and relates them well to the overall fabric of intellectual property law. This reference is suitable for use by those with a beginner's knowledge of patent law, but it has sufficient depth to be instructive for every practitioner in this exciting and dynamic field.