Legal Citation in a Nutshell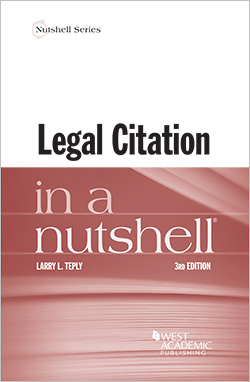 Legal Citation in a Nutshell
Author: Teply, Larry L.
Edition: 3rd
Copyright Date: 2021
Publication Date:

October 11th, 2021

ISBN:

9781647087487

Subject: Legal Writing
Series: Nutshells
Type: Overviews
Description: Learning legal citation is one of the difficult (and sometimes admittedly annoying) tasks that students new to the law face. This book is designed to ease that task. It initially focuses on conventions that underlie all accepted forms and systems of legal citation. Building on that understanding and an explanation of the process of using citations in legal writing, the book then discusses and illustrates the particular rules of The Bluebook and the ALWD Citation Guide for citing cases, statutes, and all other major legal sources. Its unique appendices provide a useful reference resource to aid students in formulating citations.