Principles of Federal Jurisdiction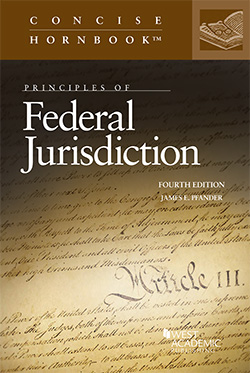 Principles of Federal Jurisdiction
Author: Pfander, James E.
Edition: 4th
Copyright Date: 2021
Publication Date:

October 11th, 2021

ISBN:

9781636593111

Subject: Civil Procedure
Series: Concise Hornbook Series
Type: Hornbook Treatises
Description: Designed for students in advanced courses and newly revised, this book explains the leading principles of federal jurisdiction. It covers such landmarks as Marbury v. Madison and Bivens v. Six Unknown Named Agents and the rules that govern original and appellate jurisdiction, justiciability and abstention, federal habeas corpus, and sovereign immunity. It treats the enemy combatant cases, and the aftermath of Boumediene, and recent Supreme Court decisions on such diverse issues as the legal foundation of the Ex parte Young action and the nationwide injunction, the sharp restriction of the Teague retroactivity doctrine, the curtailment of the Bivens action, the reaffirmation of suits for nominal damages, and the jurisdictional nuances of consumer class action litigation. Perhaps most importantly, the book provides students with a sense of the argumentative possibilities available to lawyers and jurists working within the federal courts' tradition.