Wills, Trusts and Estates Including Taxation and F...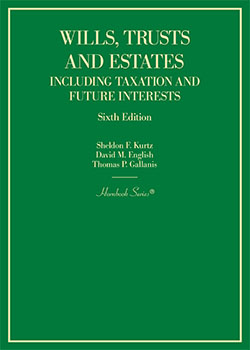 Wills, Trusts and Estates Including Taxation and Future Interests
Authors: Kurtz, Sheldon F. / English, David M. / Gallanis, Thomas P.
Edition: 6th
Copyright Date: 2021
Publication Date:

May 24th, 2021

ISBN:

9781647088002

Subject: Trusts and Estates
Series: Hornbooks
Type: Hornbook Treatises
Description: A comprehensive one-volume treatise on the law of trusts and estates written by leading experts. Among the topics covered are intestate succession, wills, nonprobate mechanisms, trusts, fiduciary administration, and choice of law. The book includes the very latest hot topics including electronic wills, trust decanting, directed trusts, asset protection trusts, and planning for modern families. The book incorporates the most recent provisions of the Uniform Probate Code, the Uniform Trust Code, and the many other uniform laws relating to the donative transfer of wealth. The book also includes an overview of the federal transfer tax laws. An essential guide for students and practitioners.