Exam Pro on Torts (Objective)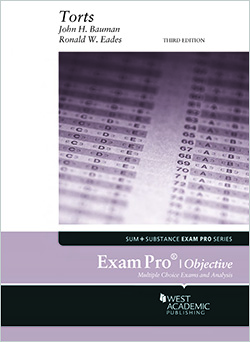 Exam Pro on Torts (Objective)
Authors: Bauman, John H. / Eades, Ronald W.
Edition: 3rd
Copyright Date: 2021
Publication Date:

March 29th, 2021

ISBN:

9781647083816

Subject: Torts
Series: Exam Pro Series
Type: Exam Prep
Description: This product is a study aid that helps law students prepare to take their torts exam. Students gain a more thorough understanding of torts and a better understanding of how to take exams by taking the sample objective exams and reviewing the corresponding answers and analysis.
Click the button below to launch an interactive experience using the multiple-choice questions and answers from this book.