Black Letter Outline on Antitrust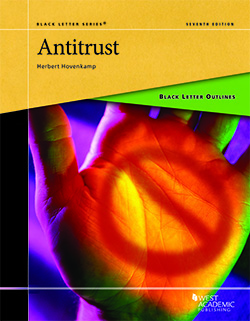 Black Letter Outline on Antitrust
Author: Hovenkamp, Herbert
Edition: 7th
Copyright Date: 2021
Publication Date:

March 29th, 2021

ISBN:

9781684674374

Subject: Antitrust Law
Series: Black Letter Outlines
Type: Outlines
Description: Black Letter Outlines are designed to help a law student recognize and understand the basic principles and issues of law covered in a law school course. Black Letter Outlines can be used both as a study aid when preparing for classes and a review of the subject matter when studying for an examination. This outline covers: Antitrust Economics - Price Theory and Industrial Organization; Cartels, Tacit Collusion, Joint Ventures and Other Combinations of Competitors; Monopolization, Attempt to Monopolize and Predatory Pricing; Vertical Integration and Vertical Mergers; Tie-ins, Reciprocity, Exclusive Dealing and the Franchise Contract; Resale Price Maintenance and Vertical Nonprice Restraints; Refusals to Deal; Horizontal Mergers; Conglomerate and Potential Competition Mergers; Price Discrimination and Differential Pricing Under the Robinson-Patman Act; Jurisdictional, Public Policy and Regulatory Limitations on the Domain of Antitrust; and Enforcement, Procedure and Related Matters.