Law School Legends Audio on Evidence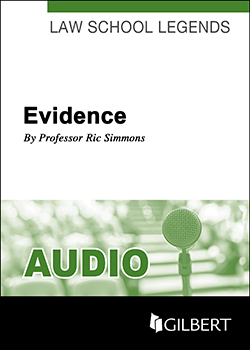 Law School Legends Audio on Evidence
Author: Simmons, Ric
Edition: 1st
Copyright Date: 2019
Publication Date:

January 23rd, 2019

Subject: Evidence
Series: Law School Legends Audio Series
Type: Audio Lectures
Description: This lecture series on Evidence is designed for students who are about to take or are currently taking a course in Evidence and who want to use it for class review or exam preparation. But it is also useful for anyone, student or not, who would like to gain a better understanding of what evidence is admissible in court. You can listen or study at your convenience – in the library, at home, walking or jogging, or driving in your car.

These audio lectures are each approximately twenty minutes long. Each one covers a discrete aspect of Evidence law, so you can easily access the topics you want to learn or review. Coverage includes the topics of relevance, impeaching witnesses, character evidence, rape shield law, expert testimony, and privileges. The topic of hearsay and its numerous exceptions gets special attention. Each lecture begins with a clear, concise statement of the relevant legal principles and then explores the scope and nuances of the applicable rule with a series of examples that apply the rule in different situations.