The Weekend MPRE: Complete Preparation for the MPR...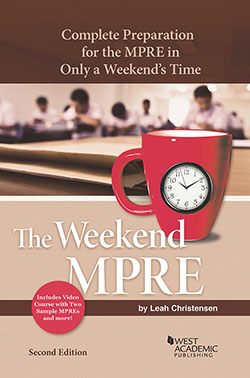 The Weekend MPRE: Complete Preparation for the MPRE in Only a Weekend's Time
Author: Christensen, Leah
Edition: 2nd
Copyright Date: 2018
Publication Date:

January 17th, 2018

ISBN:

9781640206236

Subject: Professional Responsibility/Ethics
Series: Career Guides
Description: The Weekend MPRE book and video course is designed to prepare users for the MPRE in a single weekend, primarily through thoughtful explanations of the most tested aspects of the rules of professional responsibility. This package includes either a softcover print book or an eBook, along with 12-month digital access to 14 videos, two practice exams, quizzes, and A Short & Happy Guide to the MPRE.
Click the button below to launch an interactive experience using the multiple-choice questions and answers from this book.