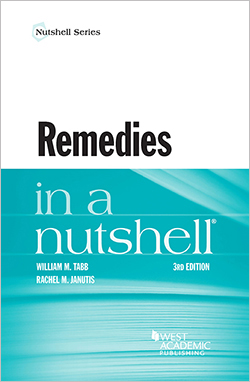 Remedies in a Nutshell
Authors: Tabb, William Murray / Janutis, Rachel M.
Edition: 3rd
Copyright Date: 2017
Publication Date:

September 15th, 2017

ISBN:

9781683282082

Subject: Remedies
Series: Nutshells
Type: Overviews
Description: This Nutshell explains what remedies are and their history. Examines the basic rules for legal and equitable remedies, injunctions, damages, restitution, rescission, reformation, and specific performance. Explains how remedies are used for injuries to realty, personal property and money, personal interests, misrepresentation, mistake, duress, and breach of contract. Also addresses restitution for unenforceable contracts.