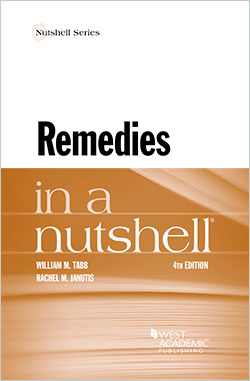 Remedies in a Nutshell
Authors: Tabb, William Murray / Janutis, Rachel M.
Edition: 4th
Copyright Date: 2021
Publication Date:

March 29th, 2021

ISBN:

9781647082208

Subject: Remedies
Series: Nutshells
Type: Overviews
Description: This Nutshell explores the basic rules which inform legal and equitable remedies, restitution at law and equity, declaratory relief, jury trial, and attorneys' fees. Additionally, the Nutshell examines the principal defenses and limitations on those remedies and the means by which equitable orders are enforced, such as through civil and criminal contempt. The discussion of equitable remedies includes both temporary restraining orders and permanent injunctions, along with specific performance of contractual obligations. Coverage includes the nature and measurement of compensatory damages for breach of contract, harm to real and personal property, and personal injuries. Further, the Nutshell discusses entitlement and measurement of punitive damages and the substantive and procedural constitutional due process limitations on those awards. Modern developments in the law are addressed, such as recent jurisprudence involving nationwide or universal injunctions and the limits on recovery for emotional distress and economic loss.