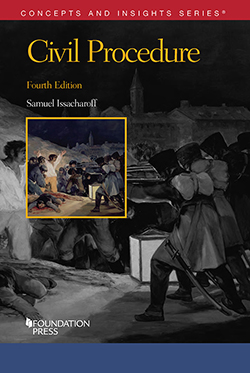 Civil Procedure
Author: Issacharoff, Samuel
Edition: 4th
Copyright Date: 2017
Publication Date:

August 23rd, 2017

ISBN:

9781683287063

Subject: Civil Procedure
Series: Concepts and Insights
Type: Hornbook Treatises
Description: This book will analyze legal procedure as part of a complicated interaction between private ordering and public intervention. Modern society brings people together in a variety of settings and injects an active state presence into all manner of everyday activities. Inevitably there are disputes. Yet, these disputes settle all around us, based on social norms or simply an understanding of what is right and what is wrong; what is contestable and what is not. This private ordering of responsibility occurs against a backdrop, sometimes but certainly not always invoked, of what might occur were the matter to be taken to the more costly system of public dispute resolution. In this sense, disputants outside the legal system are said to be bargaining in the shadow of the law. For those who cannot privately order their disputes, there are two public interests. The first is to provide a public resolution such that future similarly situated disputants may be better able to anticipate what are the likely outcomes should they proceed to litigation. The second is to provide finality so that the disputants may get on with their affairs. The central thrust of this book will be to examine the overall structure of public dispute resolution through six basic concepts:


1. rudimentary fairness and the trade off between equity and efficiency;
2. defining the parameters of a dispute in terms of the presentation of issues and the obtaining of information;
3. defining the scope of the dispute in terms of parties, particularly as the judicial system confronts increasingly complex litigation;
4. defining the power of the courts;
5. securing finality; and
6. the costs of procedure.