Gilbert Law Summary on Torts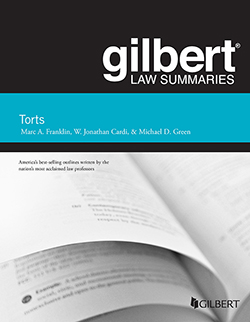 Gilbert Law Summary on Torts
Authors: Franklin, Marc A. / Cardi, W. Jonathan / Green, Michael D.
Edition: 25th
Copyright Date: 2017
Publication Date:

July 25th, 2017

ISBN:

9781634602747

Subject: Torts
Series: Gilbert Law Summaries
Type: Outlines
Description: The subjects discussed in this outline are intentional torts, negligence, strict liability, products liability, nuisance, survival of tort actions, wrongful death, and immunity. Also included are release and contribution, indemnity, workers' compensation, no-fault auto insurance, defamation, invasion of privacy, misrepresentation, injurious falsehood, interference with economic relations, and unjustifiable litigation.