The Legal Research Survival Manual with Video Modu...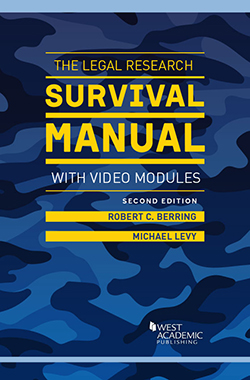 The Legal Research Survival Manual with Video Modules
Authors: Berring, Robert C. / Levy, Michael
Edition: 2nd
Copyright Date: 2017
Publication Date:

April 1st, 2017

ISBN:

9781683284659

Subject: Legal Research
Series: Career Guides
Description: This text and the accompanying videos provide a basic introduction to the mysteries of legal research, giving the new legal researcher the tools necessary for success. The title Legal Research Survival Manual is chosen with care. The work does not provide comprehensive coverage of legal materials, and is not designed to replace traditional legal texts. Instead, it is an easy-to-read introduction for students at the very start of their career. It is designed to be an approachable resource to launch them into the first year of law school or as a legal research refresher for those starting their first jobs or internships. The videos can be watched in conjunction with the book or separately.

Video topics include:


Structure of US Court System
How Cases Came to be Published
The Parts of a Judicial Opinion
How to Read a Judicial Opinion
Overview of the Online Systems
Hints for Online Case Searching
Citators and How They Can Save You
Bluebook Citation and You
Legislation—What You Need to Know
Administrative Law and Legislative History
Secondary Sources
Research Strategy
Click the button below to launch an interactive experience using the multiple-choice questions and answers from this book.