Sum and Substance Audio on Civil Procedure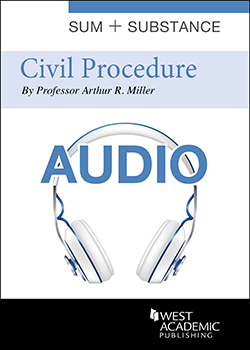 Sum and Substance Audio on Civil Procedure
Author: Miller, Arthur R.
Edition: 8th
Copyright Date: 2016
Publication Date:

September 6th, 2016

Subject: Civil Procedure
Series: Sum and Substance Audio
Type: Audio Lectures
Description: Convenient and effective, Sum and Substance Audio Set on Civil Procedure, 8th presents the essentials of civil procedure in a clear, succinct, time-saving format. Includes quick reference indexing, allowing you to quickly locate all topics in the recording, and informed exam tips to help maximize your performance. Sections discuss: clusters of procedure, citizenship, traditional basis of jurisdiction, constitutional principles, illustrative application, federal court jurisdiction, service of process, venue principles, pleading, sanctions, joinder, counterclaims, class actions, discovery, summary judgment, trial, jury trial, posttrial motions, new trial motions, motion for judgment notwithstanding the verdict, collateral estoppel, and appeals.