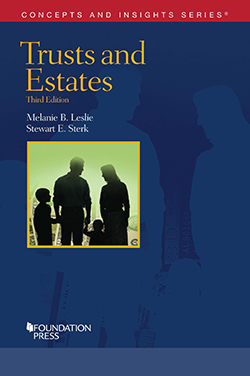 Trusts and Estates
Authors: Leslie, Melanie B. / Sterk, Stewart E.
Edition: 3rd
Copyright Date: 2016
Publication Date:

September 26th, 2016

ISBN:

9781634603003

Subject: Trusts and Estates
Series: Concepts and Insights
Type: Hornbook Treatises
Description: The Third Edition of Concepts and Insights on Trusts and Estates makes complex doctrinal rules easier to understand by exploring the history and rationale behind those rules. The analysis is thorough, and focuses both on common law doctrines and statutory reforms—with an emphasis on the Uniform Probate Code and the Uniform Trust Code. Each substantive chapter closes with a set of exam-like problems designed to test understanding of the material included in the chapter. The authors also include thorough solutions to each of these problems. This is the only book in the field that combines thorough doctrinal analysis with more than 60 review problems, each with complete solutions.