Exam Pro on Civil Procedure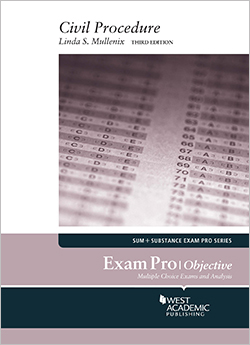 Exam Pro on Civil Procedure
Author: Mullenix, Linda S.
Edition: 3rd
Copyright Date: 2016
Publication Date:

September 16th, 2016

ISBN:

9781634606837

Subject: Civil Procedure
Series: Exam Pro Series
Type: Exam Prep
Description: The new edition contains five objective exams in civil procedure with a total of 125 objective questions. Each exam consists of 25 objective problems followed by five multiple-choice answers. Each problem is based on recently decided federal district or appellate court decisions. Exam Pro provides the answers and a detailed analysis to enhance understanding of civil procedure. The tear-out answer sheets simulate exam conditions.

This edition reflects the typical course coverage in the now standard four credit-hour, one semester civil procedure course. The exam problems have been updated to reflect recent Supreme Court decisions on civil procedure issues, as well as recent amendments to the Federal Rules that became effective December 2015.
Click the button below to launch an interactive experience using the multiple-choice questions and answers from this book.