Electronic Discovery and Digital Evidence in a Nut...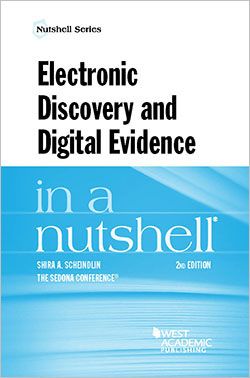 Electronic Discovery and Digital Evidence in a Nutshell
Authors: Scheindlin, Shira A. / SEDONA CONFERENCE
Edition: 2nd
Copyright Date: 2016
Publication Date:

December 24th, 2015

ISBN:

9781634597487

Subject: Civil Procedure
Series: Nutshells
Type: Overviews
Description: A concise treatment of all issues relating to electronically stored information (ESI) in litigation today, and a must-own for both civil and criminal practitioners. The authors have substantially rewritten each chapter and added chapters on anticipated changes to the Federal Rules of Civil Procedure governing ESI (which take effect December, 2015), technology-assisted review of ESI, and the use of ESI in criminal cases. Includes extensive treatment of preservation, search for and production of ESI, privilege protection, sanctions, ethical obligations of attorneys with respect to technology, and how the federal rules can be and have been adopted to accommodate digital evidence. Written by the author of the landmark Zubulake opinions and the Sedona Conference, which is at the forefront of thinking and writing on electronic discovery.