How to Write Law Exams: IRAC Perfected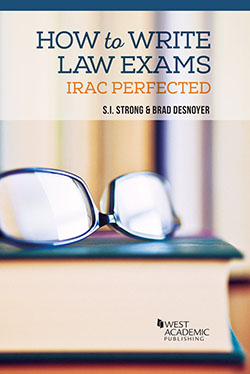 How to Write Law Exams: IRAC Perfected
Authors: Strong, S. I. / Desnoyer, Brad
Edition: 1st
Copyright Date: 2016
Publication Date:

November 3rd, 2015

ISBN:

9781634593502

Subject: Academic Success
Series: Career Guides
Description: Written for every law student who ever wondered how to get better grades in law school, How to Write Law Exams: IRAC Perfected provides students of all levels with a detailed, comprehensive, and practical guide to success on law school exams. What's more, How to Write Law Exams applies equally to all subject matters, making this text an ideal supplement for every law school course.


Focuses on law school and bar exams rather than the kind of assignments seen in legal writing class. As such, the book helps students improve their grades in all of their substantive courses, not just in their first year legal writing class.
Provides readers with a proven and easy-to-implement means of maximizing points on a law school exam. Rather than repeating vague generalities about grammar and style or providing simple bullet-point lists as other writing guides do, this text breaks the well-known IRAC method of legal writing into comprehensible segments and gives students the tools needed to master their law exams.
Provides readers with detailed student-written examples of the IRAC method in action. Annotated with line-by-line critiques, these sample essays show readers exactly what can go wrong in a law school exam and how to fix those problems before they appear on a graded paper.


Combining in-depth analysis, easy-to-understand writing, and innovative design features, How to Write Law Exams: IRAC Perfected is the answer to every law student's exam questions.