A Short & Happy Guide to Torts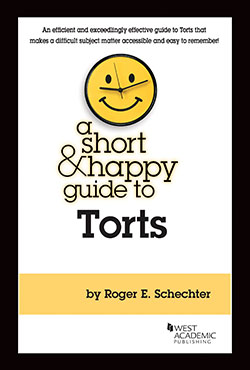 A Short & Happy Guide to Torts
Author: Schechter, Roger E.
Edition: 1st
Copyright Date: 2012
Publication Date:

May 10th, 2012

ISBN:

9780314277879

Subject: Torts
Series: Short & Happy Guides
Type: Overviews
Description: In this concise book Professor Schechter, an award-winning teacher and prominent national bar lecturer, balances brevity and humor with a clear, crisp and thorough review of basic torts doctrine. His comprehensive survey includes not only thorough coverage of core topics, such as negligence and strict products liability, but also provides an overview of the economic and dignitary torts, damages issues, and vicarious liability. As the series title promises, the author has kept it short, and the book will make students happy.