Uniform Probate Code and Uniform Trust Code in a N...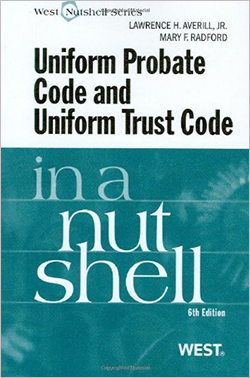 Uniform Probate Code and Uniform Trust Code in a Nutshell
Authors: Averill Jr, Lawrence H. / Radford, Mary F.
Edition: 6th
Copyright Date: 2010
Publication Date:

August 30th, 2010

ISBN:

9780314926920

Subject: Trusts and Estates
Series: Nutshells
Type: Overviews
Description: Authoritative coverage provides detailed explanations of the provisions, definitions, and concepts of the Uniform Probate Code (UPC) and the Uniform Trust Code (UTC). UPC topics covered include probate jurisdiction of the courts; intestate succession involving wills and donative transfers; and probate of wills and administration. UTC topics include creation, validity, modification, and termination of trust; discretionary and revocable trusts; creditor's claims and spendthrift trusts; duties, powers, and liability of trustees; and rights of persons dealing with trustees.