Gilbert Law Summaries on Securities Regulation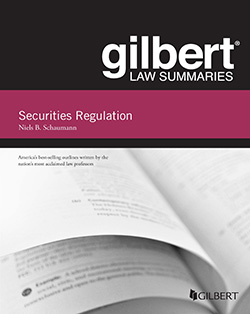 Gilbert Law Summaries on Securities Regulation
Author: Schaumann, Niels B.
Edition: 7th
Copyright Date: 2007
Publication Date:

October 9th, 2007

ISBN:

9780314181114

Subject: Securities Regulation
Series: Gilbert Law Summaries
Type: Outlines
Description: This product contains an outline on securities regulation. Topics covered include the Securities and Exchange Commission (SEC), jurisdiction and interstate commerce, and the Securities Act of 1933 (including persons and property interests covered, registration statements, exemptions from registration requirements, and liabilities). It also discusses the Securities Exchange Act of 1934 (including rule 10b-5, tender offers and repurchases of stock, regulation of proxy solicitations, liability for short-swing profits on insider transactions, and SEC enforcement actions), regulation of the securities markets, multinational transactions, and the state regulation of securities transactions.