Exam Pro on Wills, Trusts, and Estates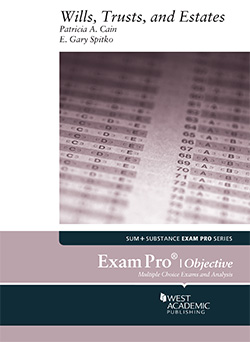 Exam Pro on Wills, Trusts, and Estates
Authors: Cain, Patricia A. / Spitko, E. Gary
Edition: 1st
Copyright Date: 2006
Publication Date:

August 21st, 2006

ISBN:

9780314239471

Subject: Trusts and Estates
Series: Exam Pro Series
Type: Exam Prep
Description: This new Exam Pro book contains sample tests that cover an entire wills, trusts, and estates course as well as mini exams that cover discrete topics such as intestacy and future interests. The book also covers the Uniform Probate Code and general common law principles. A detailed answer key explains why the correct answer is the best choice and why other answers are not.
Click the button below to launch an interactive experience using the multiple-choice questions and answers from this book.