Black Letter Outline on Civil Procedure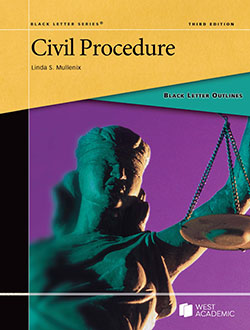 Black Letter Outline on Civil Procedure
Author: Mullenix, Linda S.
Edition: 3rd
Copyright Date: 2024
Publication Date:

December 6th, 2023

ISBN:

9798887862835

Subject: Civil Procedure
Series: Black Letter Outlines
Type: Outlines
Description: Black Letter Outlines are designed to help a law student recognize and understand the basic principles and issues of law covered in a law school course. Black Letter Outlines can be used both as a study aid when preparing for classes and a review of the subject matter when studying for an examination. This outline covers: structure of the judicial system; choosing the forum - personal jurisdiction; choosing the forum - subject matter jurisdiction; removal of litigation from state court to federal court; venue; forum non conveniens; ascertaining applicable law (Erie doctrine); procedural due process and prejudgment seizures; commencing the action - notice and service of process; pleadings (plausible pleading standard; complaint, answer, reply); amendment of pleadings; attorney sanctions; joinder of parties and claims; cross claims and counterclaims; intervention; interpleader; obtaining information prior to trial – discovery (discovery mechanisms; protective orders; privileges and immunities; discovery sanctions); resolution without trial (voluntary and involuntary dismissal; summary judgment); pretrial judicial case management; trial (including right to trial by jury; trial motions; post-trial motions); appellate review (including mandamus and collateral order doctrine); and the binding, preclusive effects of judgments (res judicata; collateral estoppel; intersystem preclusion).

This third edition incorporates a number of changes and additions from the second edition, published in 2014. All the Federal Rules of Civil Procedure and related statutes have been updated to reflect rule changes and amendments since 2014. This edition extensively revises the materials relating to personal jurisdiction, and includes cases and commentary on the Court's personal jurisdiction decisions since 2014: Walden v. Fiore (2014); J. McIntyre Machinery, Ltd. v. Nicastro (2011); Goodyear Dunlop Tires Operations, S.A. v. Brown (2011); Daimler AG v. Bauman (2014); Bristol-Myers Squibb v. Superior Court of California (2017), Ford Motor Co. v. Montana Eighth Judicial District (2021); and Mallory v. Norfolk Southern Railway (2023). This edition also adds commentary relating to District Court Judge Linda Parker's opinion and order in King v. Whitmer (E.D. Mich. 2021), concerning sanctions imposed on the attorneys who represented ex-President Donald J. Trump in his re-election challenges to the Michigan 2020 voting returns. Finally, this edition adds materials relating to the Supreme Court's 2022 decision in Cameron v. EMW Women's Surgical Center, concerning a state attorney general's right of appellate intervention after an election caused a change in attorney general's previously asserted position. to the court. The class action materials have been updated to reflect recent rule amendments relating to class action settlements and approval of class action settlements.