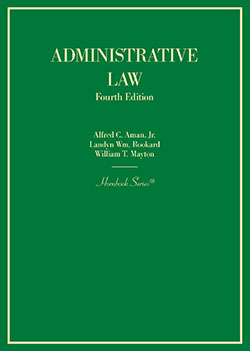 Administrative Law
Authors: Aman Jr., Alfred C. / Rookard, Landyn William / Mayton, William T.
Edition: 4th
Copyright Date: 2023
Publication Date:

March 2nd, 2023

ISBN:

9781647087876

Subject: Administrative Law
Series: Hornbooks
Type: Hornbook Treatises
Description: This treatise provides a comprehensively updated analysis of administrative law in the United States, placing special emphasis on topics undergoing significant evolution or transformation in the Supreme Court and federal courts of appeals. These include, for example, the latest developments in Congress's authority to delegate legislative authority to agencies, deference to agency legal interpretations, the so-called "major questions doctrine," modern due process issues, and the presidential appointments power. The fundamental purposes of this book are to assess and explain the current state of the core doctrines of administrative law, place the most important aspects of those doctrines in a historical context, and identify important trends that can help readers understand how the doctrines may continue to evolve. The book is intended to serve practitioners, scholars, and students of administrative law.