The Elements of Bankruptcy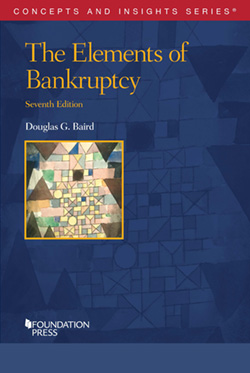 The Elements of Bankruptcy
Author: Baird, Douglas G.
Edition: 7th
Copyright Date: 2022
Publication Date:

February 18th, 2022

ISBN:

9781647083762

Subject: Bankruptcy/Creditors' Rights
Series: Concepts and Insights
Type: Hornbook Treatises
Description: Regularly cited by the Supreme Court and others, Elements of Bankruptcy provides a comprehensive introduction to the basic principles of bankruptcy law. In addition to covering foundational questions such as the fresh start for individuals, property of the estate, executory contracts, adequate protection, preferences, and fraudulent conveyances, this book also covers cutting-edge issues such as restructuring support agreements, nonconsensual third-party releases, make-whole clauses, carve-outs, trap doors, and backstops. The seventh edition also takes stock of recent developments from the Supreme Court and elsewhere, including such cases as Mission Product Holdings, Jevic, Fulton, and Purdue Pharma.