Elements of Bankruptcy, 6th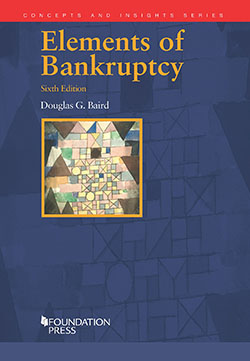 Elements of Bankruptcy, 6th
Author: Baird, Douglas G.
Edition: 6th
Copyright Date: 2014
Publication Date:

July 14th, 2014

ISBN:

9781609303549

Subject: Bankruptcy/Creditors' Rights
Series: Concepts and Insights
Type: Hornbook Treatises
Description: Widely cited and authoritative, Elements of Bankruptcy provides a comprehensive introduction to the basic principles of bankruptcy law. In addition to covering foundational questions such as the fresh start for individuals, property of the estate, executory contracts, adequate protection, preferences, and fraudulent conveyances, this book also covers such cutting-edge issues such as debtor-in-possession financing, plan support agreements, carve-outs, credit-bidding, and first-day orders. The sixth edition also takes stock of the developments in bankruptcy in the wake of the 2008 financial crisis, including the rise of municipal bankruptcies in Detroit and elsewhere, as well as developments from the Supreme Court, including the fallout from Stern v. Marshall and Executive Benefits Insurance Agency v. Arkison.