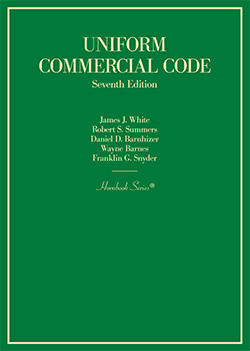 Uniform Commercial Code
Authors: White, James J. / Summers, Robert S. / Barnhizer, Daniel D. / Barnes, Wayne R. / Snyder, Franklin G.
Edition: 7th
Copyright Date: 2022
Publication Date:

January 27th, 2022

ISBN:

9781683285205

Subject: Commercial Law
Series: Hornbooks
Type: Hornbook Treatises
Description: This fully revised 7th Edition will give students a comprehensive introduction to the Uniform Commercial Code without burdening them with unnecessary detail: Articles 1 and 2 (sales), Articles 3, 4, 4A and 5 (payment systems), and Article 9 (secured transactions), as well as related statutes, amendments, regulations, and operating rules. The new edition deals not only with the 1999 revisions to Article 9 but also with the recent revisions to Article 1. This edition also addresses the earlier revisions to Articles 5, 3, and 4. It has limited coverage of the failed attempt to revise Article 2. A reference volume relied on by students, courts, and business lawyers for decades, the 7th Edition has been updated in light of modern practice and provides a useful resource for students and practitioners dealing with issues in sales, contracts, secured transactions, and payment systems.