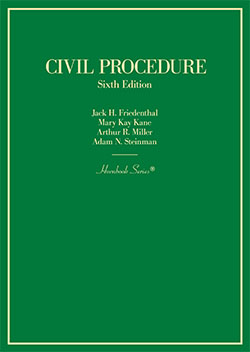 Civil Procedure
Authors: Friedenthal, Jack H. / Kane, Mary Kay / Miller, Arthur R. / Steinman, Adam N.
Edition: 6th
Copyright Date: 2021
Publication Date:

August 20th, 2021

ISBN:

9781647082697

Subject: Civil Procedure
Series: Hornbooks
Type: Hornbook Treatises
Description: Gain insight into the laws governing all of the major steps in the civil litigation process, starting with jurisdiction, venue, and ascertaining the governing law, and moving through pleading, joinder, discovery, pretrial management and adjudication, trials, appeals, and the effect and enforcement of judgments. Class actions and other forms of complex, multiparty litigation, as well as Alternative Dispute Resolution (ADR), are also covered. This text addresses the major themes underlying the various rules and procedures, and it has continuing utility as a desk book in legal practice and as an entrée into deeper research.