Sum and Substance Audio on Wills and Trusts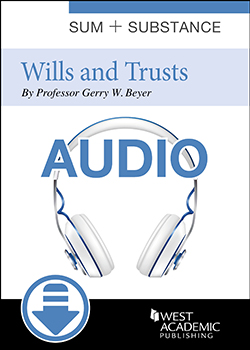 Sum and Substance Audio on Wills and Trusts
Author: Beyer, Gerry W.
Edition: 6th
Copyright Date: 2021
Publication Date:

November 4th, 2020

Subject: Trusts and Estates
Series: Sum and Substance Audio
Type: Audio Lectures
Description: This audio lecture is designed to enhance your understanding of the topics covered in courses in wills, trusts, and estates. The discussion begins with intestate succession, that is, how a person's property is distributed when he or she dies without a will, with special attention given to the issues that arise in determining whether a person qualifies as an heir. Attention then turns to wills, with coverage divided into sections dealing with the requirements of a valid will, changing circumstances after will execution, will revocation, will interpretation and construction, and will contests. The process of administering a decedent's estate is covered next. Trusts are covered in detail starting with how trusts operate and why they are popular, the creation of trusts, trust administration, and trust enforcement. The audio lecture also covers related subjects such as disability planning, non-probate assets, the basics of estate planning, resulting and constructive trusts, and examination strategies.