The Legal Career: Knowing the Business, Thriving i...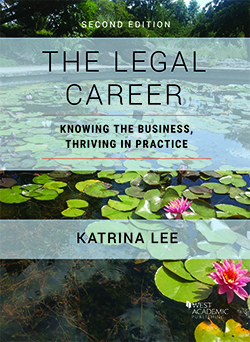 The Legal Career: Knowing the Business, Thriving in Practice
Author: Lee, Katrina
Edition: 2nd
Copyright Date: 2020
Publication Date:

May 26th, 2020

ISBN:

9781684671496

Subject: Career Success
Series: Career Guides
Description: This first-of-its kind business of law coursebook covers critical topics in the evolving legal profession. A fascinating, informative read for any law student or lawyer or person hoping to learn more about today's legal landscape, the book features chapters on the structure and business of a law firm; the corporate law department; the emergence of law companies; legal technology; access to justice; employment and diversity in the legal profession; lawyer well-being; and legal education reform. Students will learn from detailed, insightful interviews of people working in law, including a co-founder of a leading law company; a legal innovation designer; the vice president and chief risk officer of a global medical technology company; a deputy legal counsel for an artist crowdfunding platform startup; a national pro bono counsel; law school deans; a law firm managing partner; and a senior director of knowledge and innovation delivery. Interactive exercises and questions for reflection and discussion are included throughout the book. This book, with its innovative holistic approach to the business of law, is ideal for business of law or legal professions courses, law school orientation, legal career services programs, and seminars on the legal profession.